What's the Secret of Great Fiction Writers?
"For writers looking to sell their work, description is key,and this course has the key to description."
- Cynthia Harrison, author of YOUR WORDS, YOUR STORY
Taught by a former University of Michigan creative writing instructor, Description Writing Secrets is an 8-week course conducted by e-mail.
Are you having trouble taking your fiction writing to the next level?
Do you sense that your writing doesn't fully express what's in your imagination?
Do you want your stories to feel real and three-dimensional to your readers?
If you answered "yes" to any of these questions, this course is for you.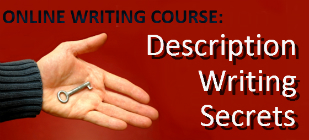 You'll learn how use description to strengthen the various elements of your story, from setting and plot to character and narrative viewpoint.
Since the course is taught by e-mail, you can learn from anywhere, studying when you have time in your schedule. Once a week for eight weeks, you will get a new lesson in your inbox. The first lesson will normally be sent to you within an hour after you sign up. 
"I especially liked Lesson 3 about using description to create a mood -- and I'm already thinking about ways to use that in my current project." 
- Nancy Antle, author of PLAYING SOLITAIRE and LOST IN THE WAR
Here's an outline of what you'll learn in the course:
The Collage Technique - Imagine your story more vividly so that you can describe it better.
Define the World of Your Story - Find the perfect details to make your story's setting three-dimensional and real.
Description and Mood - Control the reader's mood and give your story a unique atmosphere.
Description and Point of View - Use description to express your story's narrator and viewpoint.
Description and Character - Use advanced techniques to help readers imagine your characters.
Description and Plot - Use description to prepare the reader for dramatic events and build suspense.
Choosing Your Words - Maximize the impact of your descriptions by choosing the most powerful words.
Figurative Language - Use comparisons to take your descriptions to new levels.
Each lesson also includes a short writing assignment designed to help you improve as quickly as possible.


Your teacher
Description Writing Secrets is taught by Nancy Strauss, the Online Courses Director at Creative Writing Now. Nancy has an M.F.A. in Creative Writing from the University of Michigan, where she has also taught creative and expository writing.
Learn faster and more easily
The lessons are specially designed to help you learn as quickly as possible. The course presents advanced fiction-writing techniques in a way that is simple to understand, even for beginning writers. And if you have questions about any of the lessons, we'll be there to help you. 
"A great, fun, practical way to get the creative juices flowing and call forth the writer's muse." 
- Man Martin, Georgia Writers Association Author of the Year 2008 and author of DAYS OF THE ENDLESS CORVETTE
"The writing exercises are intriguing and practically beg you to get started. The lessons themselves are concise and straight-forward, easy to understand and to apply to your own writing. The 'tips' and check lists alone would justify the cost of the course." 
- Sally Derby, author of KYLE'S ISLAND
What you get in the course
Description Writing Secrets includes:
eight e-mail lessons (one lesson a week for eight weeks. The first lesson will normally be sent to you within an hour after you confirm your course registration.)
a weekly writing exercise included in each lesson
the chance to e-mail any questions about the lessons to a writing teacher.*
the chance to publish your writing on the class blog!
*Note: With the e-mail support included in the course, you can ask general questions about writing and get answers from a teacher. But if you would like instead to have a teacher read your writing or comment on it, you will need to sign up for a Feedback Pack.
Feedback Pack (optional)
Do you want one-on-one feedback from a writing teacher on your weekly assignments?
We know that instructor feedback is a priority for some students, so we have decided to accommodate those students by offering the option of purchasing a Feedback Pack.
If you sign up for the Feedback Pack, you will get everything included in Description Writing Secrets, plus you'll be able to send up to eight pieces of writing (up to 2000 words each) to a writing teacher and get individual feedback on each one by e-mail. You can use the Feedback Pack during the eight weeks of the course, or for up to one month after you receive the last lesson.
(Your Feedback Pack teacher may be either Nancy or another qualified writing teacher.)
Which course option is right for you?
Description Writing Secrets contains everything you need to learn quickly. The lessons are very easy to understand, and if you have any questions, you can e-mail one of our teachers.
This course is an exceptional value. You get all of the learning of a college creative writing course with the convenience of being able to study from home.
If you have a specific need for individual feedback, then the Feedback Pack might be your best option.
Join the Waiting List
This course is currently not accepting new students.
Enter your e-mail to join the waiting list and be notified when it opens again.
Frequently asked questions
Here are some answers to questions you may have about the course:
Q: How/when will I get my lessons?
A: Your lessons will be sent to you by e-mail, once a week for eight weeks. Here's how it works: when you purchase the course, you will be asked for an e-mail address. After your purchase is complete, you will normally receive the first lesson within one hour.
Q: How much time will I need to complete the assignments?
A: The lessons are specially designed so that you can read and absorb them quickly. And the writing assignments can also be completed fast. But as with most things, what you get out of this course depends on what you put into it. So we suggest making time to revise your weekly assignments and do some additional writing. Ideally, try to schedule a regular time for your writing at least five days a week -- even if it is only ten minutes per day.
Q: Will I have to buy any books or additional materials?
A: There are no additional materials required for the course. The online format will also save you money versus an offline course, where you would have logistical expenses such as transportation, parking, childcare, and so on.
Q: Is the course just for fiction writing, or will it help me write essays, articles, poetry, etc.?
A: The course is focused on fiction-writing (short stories or novels). If you are mainly interested in writing essays, articles, poetry, or another genre, this course may not be right for you.
Q: What if I don't understand something in one of the lessons?
A: No worries. You can e-mail us, and a teacher will answer your questions about the course.
Q: How do I get feedback on my writing assignments?
A: If you would like a teacher to send you one-on-one feedback on your eight writing assignments, consider signing up for the Feedback Pack. However, if you decide not to purchase the Feedback Pack, you can still publish your writing on the course blog, where your classmates might comment on it.
Q: How soon do I have to decide?
A: If you're really interested in taking this course, it is safer to sign up now while it's still open.
Q: What if I change my mind after I purchase the course?
A: No problem! If you change your mind, just ask us for a refund. You can send us an e-mail any time during the first 20 days (or before a teacher starts preparing feedback on your assignment if you've purchased the Feedback Pack), and just tell us you've changed your mind, then we'll refund 100% of your payment. No hassle; no hard feelings. So you actually have nothing to lose by signing up for the course now.
Q: What if my question was not answered here?
A: Please just send us an e-mail, and we'll be delighted to answer all your questions.
Learn the advanced techniques great writers use in their fiction.
This course is currently not accepting new students.
Enter your e-mail to join the waiting list and be notified when it opens again.
P.S. - Still not sure? Give it a test run.
 Sign up for the basic version (without the Feedback Pack) and see what you think. You have 20 days to decide if it's for you or ask for a refund.
P.P.S - We're looking forward to helping you take your writing to the next level!