About Creative Writing Now
Creative Writing Now was founded by writing teachers to be a supportive and friendly online space for authors and poets at all stages in their writing lives.
Our mission:
Educate - with high-quality courses and free resources for independent study.
Encourage - by maintaining a positive atmosphere and providing guidance for beginning writers.
Inspire - by sharing our passion for literature and writing.
Meet some of our team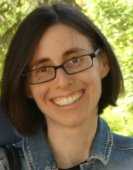 Nancy Strauss
Founder and Online Courses Director

Nancy taught creative and expository writing at the University of Michigan before moving to the Czech Republic and then Spain. Since then, she has worked as an English teacher and consultant, published a book about online communities, and founded a content writing and translation company. She has an M.F.A. in Creative Writing from the University of Michigan and a B.A. in English from Oberlin College.




Cristina Viejo and Graciela Garcia
Web Designers

Cristina and Graciela are responsible for the new look of the Creative Writing Now website and created the woman with the laptop that you see at the top of this page. They are currently available for new design projects, including websites, illustrations, and other types of graphic design. Enquiries can be sent using the e-mail form below.






Legal information
This website is owned by William Victor, S.L. You can find the company's legal information
here
.
Contact us
Questions? Feedback? We'd love to hear from you. You can use our
e-mail form
below to drop us a line, or write to us by snail mail c/o William Victor SL, Calle Juan de Austria 22, Pta 6C, 28010 Madrid, Spain.
<< BACK from About Creative Writing Now to Creative Writing Now Home