Mix and Match
by Glynis Smy
(Cyprus)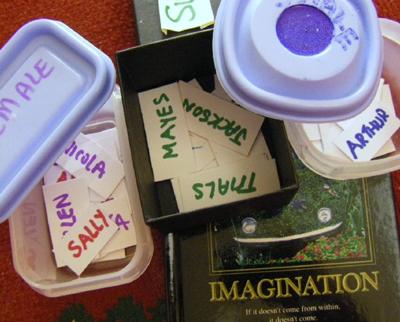 Mix and Match Character Names
I have three boxes with snippets of paper in them. One contains male first names, the other, female and the third, surnames. If I ever hear a new name, I jot it down and add it to the relevant box.

When I want to produce a character, I dip into the appropriate box, and pull out a M/F. I then do the same with a surname. If I do not like the name for that particular character, I jot it down in a 'Name Record' notebook, for future reference.

I play my mix and match game until I find the person I am looking for. It is a great way to pass time if you are having a 'blank mind' day.