Donna Fletcher Crow on Planning a Novel
We asked novelist Donna Fletcher Crow to talk about her process of researching and planning a novel and to share advice on writing historical fiction and mysteries. The article below is her response.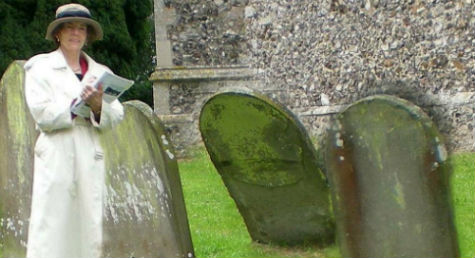 The Mysteries of Research
by Donna Fletcher Crow

Setting is very important to me. I often feel it is almost a character in my books. One of my goals as a writer is to give my readers a "You are there" experience so I try never to write about a place I haven't actually visited myself. I need to know what a place looked like, how the air felt, what the birds sounded like, what the flowers smelled like before I can pass it on to my readers. This sometimes presents an extraordinary logistics challenge since I live in Idaho— 7000 miles away from the settings of most of my books in Great Britain.
I often begin my story with the setting, either someplace I've been to and loved or someplace I want to go. I begin my research with the widest reading I can do at home and keep narrowing it until I have a good grip on my setting, characters, major plot points and theme. By this time I will have a 5-15 page outline and several files covering various aspects of my story.
Then the real fun starts— planning the on-site research. I make a list of everything I need to know to fill in all the gaps in my outline and work out on a map just exactly where I need to go to get that information or have those experiences. Then I begin setting up the interviews, travel arrangements, etc. Of course, this is much easier now with the Internet at my fingertips. It used to take me three months to set up a trip with snail mail creeping back and forth over the water. Now I can do it in a few weeks.
One of the most important things to remember on a research trip is to keep my mind open. I focus so intently on getting answers to my questions that I'm in danger of missing the surprises that can add wonderful life to my stories. Of course, I've learned that the hard way by finding myself back home at my computer and realizing that I do need that bit of information I had ignored. More and more I am learning to let my story be shaped by my research experiences.
I have always realized the value of buying books on the spot. Well, at least I learned it quickly after I discovered that a few miles down the road the same books won't be available. Books are expensive and heavy, but invaluable. More and more I've come to value taking pictures as well. A few years ago my husband bought me a digital camera so I could put albums from my research trips on my website. I started doing that as a way of "taking my readers along with me" but have also found it a wonderful aid in recalling the moment when writing— although I couldn't possibly do without the reams of notes I make on the spot as well. Those notes are especially evocative when they return with the pages spotted from rain or wrinkled from the wind.
And then, once I'm home I have the fun of reliving the whole wonderful trip all over again as I recreate it for my readers. I replay each scene in my head, experiencing it all through the senses of my hero and heroine.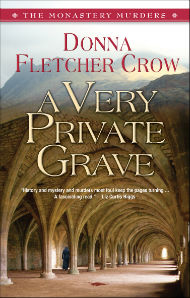 One of the things I enjoy most about working with a series like my Monastery Murders is developing my characters as they change from the harrowing experiences they live through over the course of several books. One of my very favorites is Felicity Howard, my heroine who has gone off to study theology in a monastery in remote Yorkshire. Felicity is young, American, bright, energetic, and loyal. But she is also incredibly rash and headstrong. She is out to set the world right, and the world had better look out. Felicity is one of those people who has to learn her lessons the hard way, but she does learn. I've often said that I think one of the great joys of the series will be growing Felicity up.
Perhaps the only real difference between writing mysteries and novels in other genres is that mysteries require more careful plotting. I am now at work on book 3 in The Monastery Murders, An Unholy Communion. I am working from far the most detailed outline I have every produced for a book and so far, I'm finding that this makes the actual writing go much more smoothly— let's hope it continues that way.
Other than that, my advice to new writers is the same for whatever genre you want to write in: Write what you love to read and then read, read, read as widely and deeply as you can from the very best writers. Then write from your passion. If you love your work your readers should love it, too.
Donna Fletcher Crow is the author of over thirty novels, including The Monastery Murders mystery series and Glastonbury, The Novel of Christian England, which was awarded First Place in Historical Fiction by the National Federation of Press Women. 
Planning a Novel - Next Steps
If you enjoyed this article about planning a novel, you might also like our interview with author Jenny Davidson onworld building and writing alternative historical fiction.
Are you looking for resources to help you with planning a novel? Check out our novel outline worksheets.
Return from Planning a Novel to the Creative Writing Ideas blog
<< BACK from Planning a Novel to Creative Writing Courses HOME