Writing Advice from Author Núria Albertí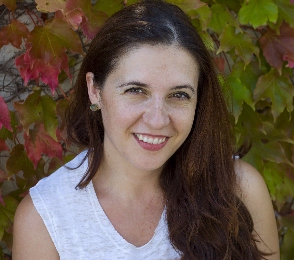 Núria Alberti, a former student in our course Be a Writer Now, is a well-known author in Spain. She has published numerous Spanish and Catalan-language books for young readers, which have been translated to English, German, French, and Chinese.

We asked her to talk about her creative process and share some advice for aspiring writers.
A conversation with Núria Albertí
Q: Could you talk about your writing process?
A: My writing process is different for novels and poetry. I usually write the first drafts of my poems by hand.
With novels (young adult fantasy novels), I tend to dream about the story a lot before I start, and I try to have a clear idea of the beginning, the middle and the end. Then I write an outline with the main action for every scene. I also make a questionnaire for the main characters about their motivations, fears, physical characteristics, etc.
When I'm writing the first draft, I always put editing aside so that I can write quickly, just getting down the ideas to move forward with the story.
I have a beta reader group of mothers and teenagers passionate about fantasy books who give me some feedback. It's always important to ask for opinions from expert editors, writers or readers who aren't in your family. Well, my husband is an exception because he's a writer too, an adult novelist. Joining a course will provide you the support you need to start.
Q: Where do you find inspiration?
I get ideas everywhere! I get them when I'm walking by paying attention to what's around me. Sometimes I get very special creative prompts by listening to part of a conversation while I'm walking. I walk and travel a lot. It keeps my mind searching and moving. And if there's nothing interesting to see, I imagine it!
Q: How do you stay motivated?
I write about what I love (nature, animals, and love), and that keeps me very motivated. I also write about what I would like to know to challenge myself from time to time.
Q: What do you consider the best part of being an author?
The best part is the pleasure of creating something new. The absolute pleasure of being absorbed in the unique act of making your story real for readers and living in the adventures of your imagination.
Q: What advice do you have for aspiring authors?
Get together with other writers. Follow your own interests and write! Don't think about writing, just write. That's why the course Be a Writer Now is so life-changing. Don't wait for tomorrow. I hear a lot of people saying they are going to write an awesome novel someday. But they never do it. This year, I'm going to have my 30th book published. It is just daily work, word after word. Step by step. But it's worth it!
More Writing Advice
Join our
email group
to get writing advice in your inbox.
Browse advice on
how to write a novel
.
<< BACK from Writing Advice to Creative Writing Now Home